Order a beer, pull up a seat and join your friends at Taverncast for our patented un-scripted roundtable discussions, covering a wide range of topics with a unique wit and inviting style. Blend in plenty of drinks, music, comedy and classic "variety show" entertainment and shake well! It's Pure 100% Fun!
History of the Show
Taverncast was created after the original cast of Bryce Erwin, Aric Watson and Derek Chew mused how entertaining it would be if they videotaped the conversations held at their weekly pub gatherings in Ann Arbor, Michigan and released them as a television sitcom. When Aric learned of podcasting, he suggested that the trio experiment with recording a show, set in a virtual "tavern" based around their shared hobby of playing the MMORPG World of Warcraft, which the show later departed from for more general pop culture, current events and geeky topics. The first episode was released on July 18, 2005 with the hosts taking on their Warcraft character names of ''Cromley'' (Aric), "Karg" (Derek) and ''Eloysius" (Bryce) as stage names. The second installment, released on August 3, 2005 saw the addition of "Kirnkaterre" (Michelle O'Neill), who was the first female gamer in podcasting.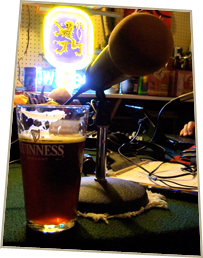 Subsequent seasons saw the addition of Brian Waggoner ("Asros"), Bill Ticknor ("Infernal Bill") and Mike Monan ("Hawkeye") to the Taverncast lineup.
Taverncast has been extremely popular with its listeners for five years, garnering numerous accolades and generating a large and loyal fan base that is known to re-listen to past shows again and again, reciting favorite moments almost on-demand.
The original Taverncast ended halfway through it's third year of production with over 69 released shows and teasers, including two spinoffs; "Taverncast: The Screen", focusing on movies and television (which was cancelled in June 2006) and "Taverncast: After Hours", a less structured, freeform discussion format, which heavily echoes the current incarnation of the show.
On May 14, 2010, Taverncast announced that the show would return for it's fifth anniversary on July 18, 2010 with Bryce Erwin, Aric Watson, Bill Ticknor and Mike Monan as primary hosts.
On September 27th, 2010 the first episode of an all-new beer review podcast called Taverncast: On Tap was launched.
For a far more detailed history on the life and times of Taverncast, be sure to check out this Google Knol article by one of our fans, or see the "Making of Taverncast" special episode in the TC VIP Lounge.